EASYJoint
EASYJoint is the original sweep-in jointing Compound and still the best truly "All Weather Paving Joint Compound" available and made in the UK. Do not be fooled by others making similar claims. Azpects sells tens of thousands of tubs of EASYJoint every month to satisfied customers all over the UK and to parts of Europe.
EASYJoint grout or jointing compound is a very quick, effective and aesthetically pleasing way to fill joints between paving, be it natural stone or concrete flags. It is suitable for all types of paving material provided there is a gap of at least 3mm wide and 25mm deep (narrow joint compound). As the name implies, EASYJoint is easy to use - simply soak the paving with water before commencing and then simultaneously sweep and wash the jointing compound into the joints, letting the water take the strain. Full instructions on how to joint paving and a demonstration video showing how to joint a patio can be found on this web site. If you cannot find what you are looking for on the Azpects site and need help on how to joint a patio or need any assistance with choosing the right hard landscaping product or how to use an EASY Range product, call our dedicated hard landscaping helpline where our trained staff will assist you.
The result of using EASYJoint, to joint your paving, will be a paving gap that is completely filled without the need for kneeling and compressing the material by hand that will last for years. A strong joint that will resist the elements and stand the test of time - better than traditional jointing methods.
Demonstration Video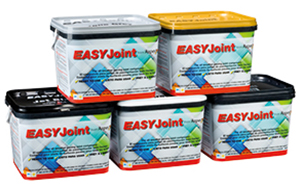 Available in 5 excellent colours
EASYJoint is available to buy in 5 colours as shown below. Colours may vary slightly due to colour differences on monitors and may not be a true reflection of the final product.