Reconstituted Paving
The prices of the Reconstituted Paving products we stock are listed below. Please contact us for further information on any of our products.
Prices do not include VAT
Travertine style
Travertine style paving is an exciting range of reconstituted stone paving with a clean comtemporary feel. Designed to be layed in a random course pattern for a modern look, this paving is suitable in and outdoors, sealing will improve the appearance of this product.
Golden Sun
| | |
| --- | --- |
| Size | Price |
| 600 x 450mm | £7.55 |
| 450 x 300mm | £3.90 |
| Per m2 | £27.90 |
Rotunda
| | | | | | | |
| --- | --- | --- | --- | --- | --- | --- |
| No | Qty for Full Circle | Size | Golden Sun Circle | Each Slab | BUFF/YORK Circle | Each Slab |
| 6 | 20 | 4.36m | £536.80 | £8.30 | £523.60 | £8.20 |
| 5 | 20 | 3.46m | £370.80 | £6.50 | £359.60 | £6.40 |
| 4 | 20 | 2.56m | £240.80 | £5.20 | £231.60 | £5.10 |
| 3 | 20 | 1.80m | £136.80 | £3.80 | £129.60 | £3.60 |
| 2 | 12 | 1.20m | £60.80 | £3.80 | £59.60 | £3.60 |
| 1 | 4 | 0.60m | 15.20 | £3.80 | £14.40 | £3.60 |

Cotswold Slabs
6 flag design (13 sizes available) 12m square packs
| | | |
| --- | --- | --- |
| Size | GOLDEN SUN 27.30pm2 | BUFF & YORK 26.20pm2 |
| 600 x 600 x 38 | £8.85 | £8.50 |
| 600 x 300 x 38 | £5.30 | £5.00 |
| 300 x 300 x 38 | £3.65 | £3.45 |
| 600 x 450 x 38 | £7.00 | £6.80 |
| 450 x 450 x 38 | £5.20 | £5.00 |
| 450 x 300 x 38 | £4.05 | £3.75 |
| No 3 Corner Infill Set | £16.65 | £16.05 |
| No 4 Corner Infill Set | £23.75 | £21.70 |
| No 5 Corner Infill Set | £29.30 | £26.15 |
| COPINGS | | |
| 600 X 140 X 38 | £4.90 | £4.50 |
Aztec Sun
| | | |
| --- | --- | --- |
| Type | 1.8m | 2.56m |
| Buff/York | £219.50 | £338.50 |
| Golden Sun/York | £235.00 | £380.00 |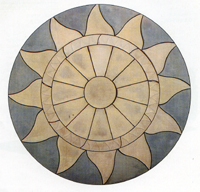 Rutland
3 size mixed pack - 9m2 Coverage
| | |
| --- | --- |
| Colour | Price |
| Autumn Gold | £25.95 m2 |
| Mellow Stone | £25.95 m2 |